Programming language: Java
License: Apache License 2.0
Orienteer alternatives and similar libraries
Based on the "Platform" category.
Alternatively, view Orienteer alternatives based on common mentions on social networks and blogs.
Sonar helps you commit clean code every time. With over 600 unique rules to find Java bugs, code smells & vulnerabilities, Sonar finds the issues while you focus on the work.
* Code Quality Rankings and insights are calculated and provided by Lumnify.
They vary from L1 to L5 with "L5" being the highest.
Do you think we are missing an alternative of Orienteer or a related project?

Add another 'Platform' Library
README
Orienteer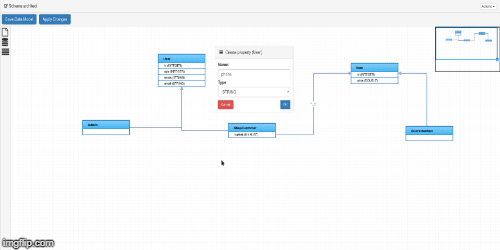 What is Orienteer
Orienteer is Business Application Platform:
Easy creation of business applications
Extendable to fit your needs
Dynamic datamodel
Rest/JSON enabled
Developers friendly
Scalling and cloud ready (support of Docker)
Orienteer installation
There are 3 options for Orienteer installation:
Docker
Embedded (on application server)
Standalone (no need in application server)
Docker
Run new container by command docker run -p 8080:8080 orienteer/orienteer. Adjust this command if needed:
-v <runtime>:/app/runtime - mount runtime directory with databases, dynamically installed modules and etc.
-v <maven>:/root/m2 - mount your local maven repository
ORIENTDB_ADMIN_PASSWORD=<password> - specify admin password by default
ORIENTDB_GUEST_PASSWORD=<password> - specify reader password by default
Embedded
Orienteer is Java Servlet 3.1 web application and can be installed on all famous compatible containers:
Jboss
Weblogic
IBM WebSphere
Tomcat
Jetty
and etc.
To install Orienteer in embedded mode:
Download latest orienteer.war
Put orienteer.war into deployment folder for your application server
Configure orienteer.properties according to your environment and place it in the same directory or above
Run application server
Standalone
Orienteer in standalone mode use embedded jetty server to run yourself. To install Orienteer in standalone mode:
Download latest orienteer-standalone.jar
Put orienteer-standalone.jar into any directory
Optionally configure orienteer.properties accordging to your environment and place it in the same directory or above

By default, Orienteer, will run OrientDB database embedded

Run Orinteer as java -Xmx512m -Xms512m -jar orienteer-standalone.jar. JVM parameters can be adjusted accordingly. Additional application parameters can be supplied:

--config=<filename> - specification of path to orienteer configuration file
--embedded - run embedded OrientDB database
--port=<port number> - run Orienteer on specified port (Default: 8080)
--help - display help
Orienteer initial configuration
orienteer.properties is the main file to store initial configuration paramenters for your installation. Sample properties file can be always found here.
orienteer.production=false  //Run Orienteer in production mode or not
orientdb.embedded=false     //Run embedded OrientDB server?
orientdb.url=remote:localhost/Orienteer   //OrientDB server URL
orientdb.guest.username=reader               //Default OrientDB user (will be used for guests as well)
orientdb.guest.password=reader               //Password for default OrientDB user
orientdb.admin.username=admin    //OrientDB user to user for administrative stuff
orientdb.admin.password=admin    //Password for OrientDB user used for administrative stuff

# Optional properties

#orientdb.rest.url=http://localhost:2480
#plantuml.url=http://custom-plantuml-url
#plantuml.showuml=false;

#webjars.readFromCacheTimeout=5 seconds
#webjars.useCdnResources=true
#webjars.cdnUrl=//maxcdn.bootstrapcdn.com:80

Setup of development environment
Prerequisites
java 8+
git
maven
OrientDB, if you want to use OrientDB remotely
Steps
This step is optional: wicket-orientdb SNAPSHOT always available on Maven central
git clone <your fork URL for wicket-orientdb>
cd wicket-orientdb
mvn clean install

Install Orienteer
cd ..
git clone <your fork URL for Orienteer>
cd Orienteer
mvn clean install

Modify orienteer.properties file
See configuration section above
Code compilation
mvn clean install

Run jetty server by command
mvn jetty:run

Goto the application
Open http://localhost:8080 is in your browser